Thanks to COVCHEG, the EU financed project, a new Honey Presidium in Azerbaijan
A conversation with Badraddin Hasratov, beekeeper
Azerbaijan has a favorable climate and natural environment that allows for beekeeping to spread widely. The mild climatic conditions in the mountainous and middle mountainous areas of its North-Western allowed the development of this type of agriculture since ancient times.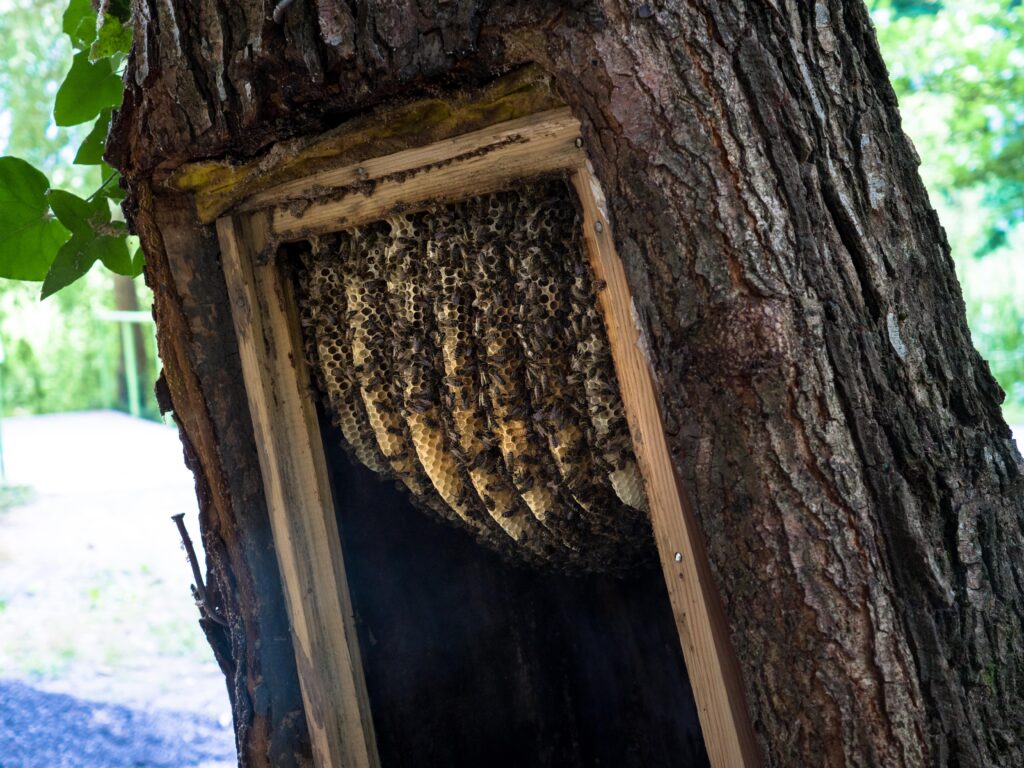 Currently, only few beekeepers in mountain regions are preserving tekne beekeeping method, since it is not a very productive method, after the wide introduction of frame hives in the XIX century. This is why the birth of a new Presidium could help survive this practice that respect insects, nature and the ecosystem in which the apoids are raised and the honey is produced.
In effect, the tradition of wild "tekne" beekeeping goes far to the ancient when people in the North-West regions of Azerbaijan were using primitive tools in their household. It was the first step to the intentional honey production as no extra care or practice of nomad beekeeping while using this method is needed.
We talked with one of the Presidium's producers, Hasratov Badraddi, beekeeper and chairman of the Azerbaijan Beekeepers Association. He lives in Lakit village of Gakh region. He was born in 1964 and his ancestral occupation is shepherding, but since his childhood beekeeping is a passion. And today it is his only activity.
How did you choose beekeeping?
The first stage of my working life began as a shepherd as a child. In 1985, while tending sheep at the foot of a mountain, I accidentally found a bee family in hives. I became interested in this activity that I began to study the life of bees by reading books about bees. My family opposed my decision of starting a beekeeping. They wanted to see me as a shepherd. Although shepherding was a family tradition for me, beekeeping was my favorite activity, so I ran away from home to Russia after this incident. I settled in a village and started my first beekeeping activity there as a beekeeping assistant. For the second year I worked as a beekeeper. In the third year, I was appointed head of a large beekeeping farm. I managed that farm for six years. I returned to Azerbaijan in the 1990s. After that, I started shepherding again. I did not have the financial means to be engaged in beekeeping. After working as a shepherd for some time, I was able to get five bee families. By multiplying them, I created a farm of about a thousand bee families. I established a beekeeping breeding farm in that area. I also created a separate farm that collects bee milk here. I also started a workshop that makes boxes and frames here. Our glorious shop was established. We built a honeycomb. And so I slowly turned my farm into a beekeeping center.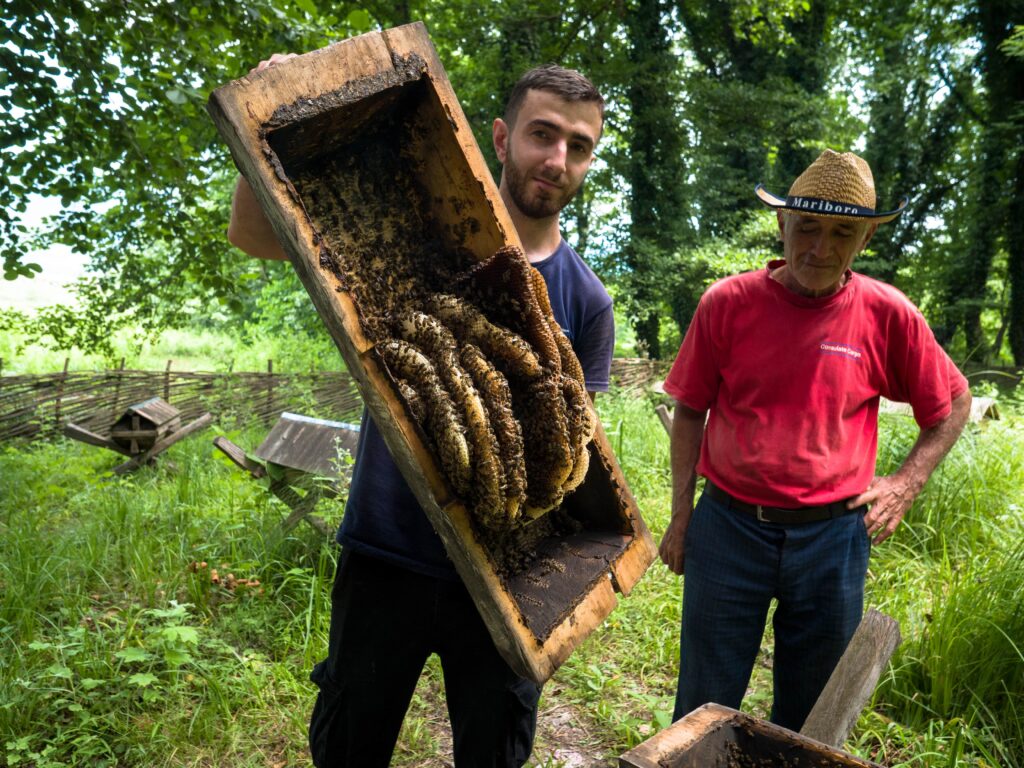 How many people work on your farm?
About twenty people work with us. There is also a school for beekeepers. Throughout the year, people learn the secrets of the beekeeping profession here.
What other products do you produce here besides honey?
Honeybees have fourteen different products – ten of them can be packaged and four unpackaged we all of those products. We even use dead bees as a material for our products we process and pack it. We prepare honeycombs, healing creams and etc.
What kind of bees do you have on your farm?
Mostly Gray Caucasian bee. But there are other mixed bee species. In addition, we have an area for the protection of the Gray Caucasian bee – in the village of Lakitkotuklu, Gakh region. We not only protect the bees here, but also breed them.
Then you don't have any other animals, do you?
We have dogs and pigeons. However, we only deal with bees on the farm.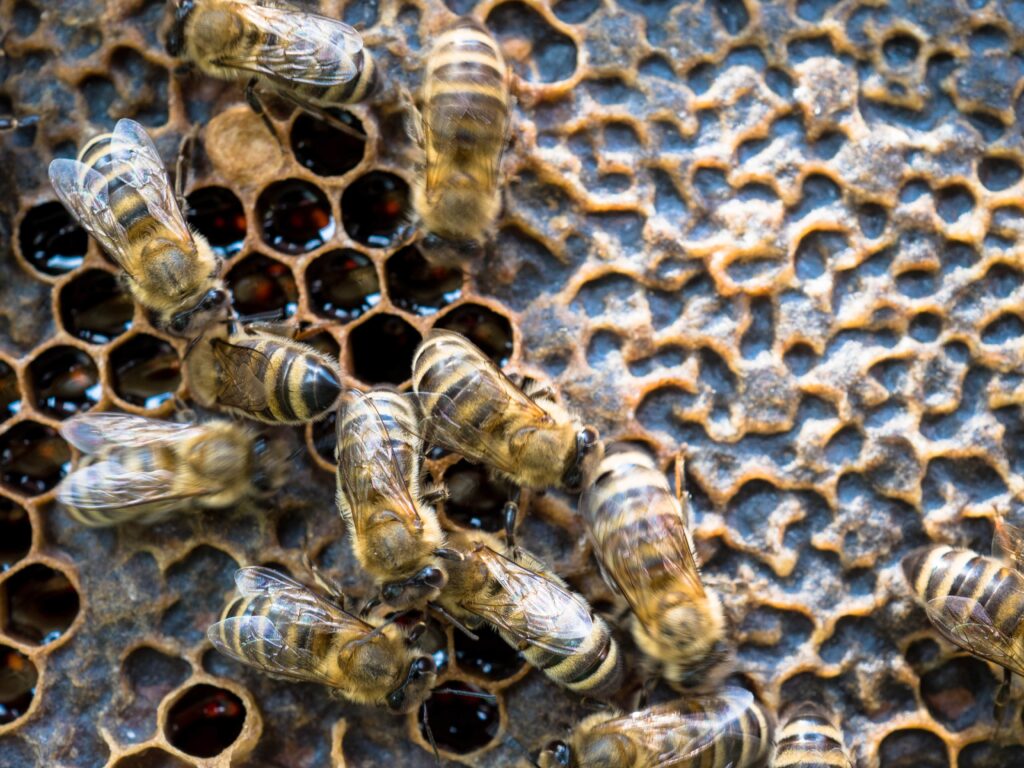 How do you think the formation of this community as a Presidium, acting as a group, will affect the economy and beekeeping?
I think that branding under one name is a very good initiative to enter the market. While we find it difficult to keep up with the market, the fact that beekeepers gather and operate in the same community at the initiative of the project actually eases the workload for each of us. We needed such a project to help.
How important do you think projects like COVCHEG are in the region?
It will affect the development of beekeeping in the region. The development of beekeeping in itself means the development of ecology, as well as agriculture. It prevents human migration, and our young people, who go abroad due to unemployment, will be able to stay and work here, mastering their ancestral professions with the development of beekeeping.
Slow Food, with the financial support of the European Union, and in partnership with the Azerbaijan Tourism Board, is developing a three-year project 'Community-based Value Chain Enhancement in the Greater Caucasus Mountains area' to contribute to a balanced development of rural areas and a sustainable food system in the pilot regions of Azerbaijan by promoting local and regional food chains and Slow Food Travel models. The international partnership has various tools and methodologies to achieve this goal, and the project intends to involve the widest possible audience and stakeholders in its implementation.